Emeritus Professor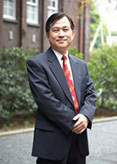 Emeritus Professor Kuang-Hui Peng
.Phone: 02-27712171 ext. 2928
.E-mail:khpeng@ntut.edu.tw
.Fax:02-2776-5102
Educational Qualifications
.PhD, School of Architecture, Planning & Landscape, University of Manchester, UK
.Examination of the Ministry of Education Supported Student for Studying Abroad on Metropolitan and Regional Planning Management
.Examination of the Taiwan Provincial Government Supported Student for Studying Abroad on Public Facilities Planning and Construction
.Qualification of Civil Engineering for Professionals
.National Ordinary Examination for Land Administration
Professional Experience
.Emeritus Professor, National Taipei University of Technology
.Dean, College of Design, National Taipei University of Technology
.Visiting Professor, The University of Tokyo, Japan
.President, Taiwan Institute of Urban Planning
.Head of Department of Architecture, and Head of Graduate Institute of Architecture & Urban Design, National Taipei University of Technology
.Adjunct Professor, Dept. of Land Economics, National Chengchi University
.Adjunct Professor, Dept. of Architecture, National Taiwan University of Science & Technology
.Concurrent Researcher, Taiwan Economic Research Institute
.Chairperson of International Exchange Committee, Taiwan Institute of Urban Planning
.Administrative Councilor, Architectural Institute of Taiwan
.Administrative Councilor, Taiwan Institute of Area Development
.Member of the Committee in Charge of Examination Affairs, Examination Yuan
.Member of Government Scholarship for Studying Abroad Committee, Ministry of Education
.Member of Final Review Committee, Ministry of Science & Technology
.Member of National Land Planning Promotion Committee, Executive Yuan
.Member of Urban Planning Committee, Ministry of Interior
.Member of Urban Renewal Advisory Committee, Ministry of Interior
.Member of Architectural Technology Advisory Committee on Planning and Design Division, Ministry of Interior
.Member of Urban Planning Committee, Taipei City Government
.Member of Urban Design Committee, Taipei City Government
.Member of Community Empowerment Committee, Taipei City Government
.Member of Urban Renewal Committee, Taipei City Government
.Senior Planner and Executive Secretary of Research & Evaluation, Taiwan Housing & Urban Development Bureau
Research Areas
.Environmental Planning and Management
.Urban Design and Planning Permission
.Community Planning and Disaster Prevention
.Planning Law
Courses
.Theory and Practice of Urban Planning
.Specific Topics on Sustainable and Resilient City
.Specific Topics on Community Empowerment and Place-making
.Introduction to Urban Design and Practice
Research Content
From the perspective of urban competitiveness and local cooperation, systematically analyze and examine the comparison between global and Taiwan's urbanization, and its significance to Taiwan's urban development model and spatial influence, and explore the partnership of Taiwan's urban space and re-structure.
From the perspective of sustainable city and green architecture, explore their planning, design, management and institutional relationship among the green buildings, ecological engineering, community planning, regional development, urban design, urban regeneration, urban prevention and sustainable development in which from the point, line and surface level of architecture, community, urban-regional interlacing, to explore the sustainable understanding and strategic planning of the socio-economic and substantive development of Taiwan's spatial planning.
Establishing a community planning service center, developing an area development plan for the community, providing a place for community residents to seek consultation, and relevant professional knowledge; contacting and integrating community environmental issues, and providing relevant planning information as a community Planning a platform for professional discussion; organizing community-related activities, inviting community planners and spatial planning organizations to implement planning practices and theoretical lectures and constructing network consulting services.
Biography
Professor Kuang-Hui Peng obtained his PhD degree from the University of Manchester in UK. He worked for Taiwan Housing and Urban Development Bureau as the Executive Secretary of Research and Evaluation Department until 1997. Then Professor Peng joined the National Taipei University of Technology (NTUT) in 1997 as an associate professor for urban design at the Department of Architecture. In 1998 he became the Head of the Department and created the Graduate Institute of Architecture and Urban Design in 1999. In addition, he also served as a concurrent researcher of the Taiwan Institute of Economic Research. In 2002 he became full professor and concurrently served as the Dean of the College of Design until 2011. During this period, he set up Doctoral Program in Design, Master Program of Graduate Institute of Interaction Design and Undergraduate Program of Creative Design, expanded the College devoting to integrating specialized fields of landscape, architecture, engineering, product, interior, furniture, innovation and consultation so as to keep abreast with the global trend in creative design, innovative development and knowledge management.
From 2011 to 2015 he was the President of Taiwan Institute of Urban Planning. In 2014 he again served as a Dean of the College of Design for three years. In 2016 he was awarded the highest honor of "Planning Medal" for distinguished contribution in planning by the Taiwan Institute of Urban Planning. His professional experiences include urban design and planning, community planning and disaster prevention, new town development and housing programming. He has been involving in various types of projects including eco-planning, vertical greening, sustainable development, sheltering and disaster prevention planning, comparative planning study with particular reference to UK and USA. The NTUT currently invites him as an emeritus professor, and he also serve as a member of Urban Planning Committee and Urban Renewal Committee to the Ministry of Interior.
Recent research
˙Journal Paper
Hung, Paiyao & Peng, Kuanghui (2017, Jan). Green-energy, water-autonomous greenhouse system: an alternative-technology approach towards sustainable smart-green vertical greening in smart cities. International Review for Spatial Planning and Sustainable Development, 5(1), 55-70. (Scopus). MOST 101-2627-E-027-002-MY3.
Peng, Kuang-Hui, Kuo, Y. C. & Lin, H. Y. (2015, Jan). The Use of Vertical Greening to Urban Rehabilitation for Improving Sustainable Environment in Taiwan. International review for spatial planning and sustainable development, 3(1), 5-16. (Scopus). MOST 101-2627-E-027-002-MY3.
Peng, Kuang-Hui & Yang, Young-Miao (2013, Sep). An Exploratory Study on Creative City from the Citizen's Point of View. International Journal of Cultural and Creative Industries, 1(1), 30-44.
Peng, Kuang-Hui (2013, Aug). The Application of Vertical Greening to Urban Rehabilitation and Maintenance. International Review for Spatial Planning and Sustainable Development, 1(3), 41-52. (Scopus). NSC 101-2627-E-027-002-MY3.
Peng, Kuang-Hui; Liu, T. Y. & Lin, M. J. (2011, Dec). Planning Guidance for Establishing Community-based Medium and Long-term Temporary Shelters of the Response in the Post-earthquake Recovery. Asian Pacific Planning Review, 7(1), pp.49-58. NSC 98-2410-H-027-008.
Peng, K. H., Tu, H. (Aug. 2010) "Toward a Sustainable City: City Greenways in Taipei, Taichung and Kaohsiung", Asian Pacific Planning Review, Vol.6, No.1, pp.129-133.
洪百燿、彭光輝(2016年06月)。不同粒石堆疊多孔表層蒸發孔隙性之實驗研究。建築學報,96,15-35。(TSSCI)。科技部:101-2627-E-027-002-MY3。
林孟儒、彭光輝(2015年12月)。墾丁國家公園住民違章建築問題及處理策略研究。國家公園學報,25(2), 29-39。
洪英進、彭光輝、蔡仁惠、廖志鴻(2014年12月)。綠色企業的典範--歐萊德綠色工廠。建築學報,90增刊, 72-77。(TSSCI)。
蔡淑瑩, 彭光輝, 何明錦, 邱玉茹(2014年12月)。研訂通用化住宅之設計概念。建築學報,90, 51~66。(TSSCI)。
陳巽煜、李有豐、林欣儀、彭光輝(2013年11月)。藤蔓植物於GFRP棒構件上之相容性實驗研究。土木工程,2013, 2, 266-274。國科會:101-2627-E-027-002-MY3。
彭光輝、官美吟(2013年01月)。通用設計的高齡友善社會--從臺北車站轉乘標示系統談起。臺灣建築學會會刊雜誌,69, 46-50。
彭光輝(2012年12月)。綠建築垂直植生綠化應用於都市整建維護。台灣環境與土地法學雜誌,1(4)。國科會:101-2627-E-027-002-MY3。
彭光輝(2011年12月)。城鄉轉型與創新發展。城市發展研究,18(12)。
˙Books
彭光輝(2017年12月)。社區規劃與永續都市(ISBN:978-986-05-4942-3)。台北:國立台北科技大學建築與都市設計研究所。
彭光輝(2015年10月)。低碳生活--從植生綠化開始: 垂直植生綠化科技在建築永續發展的應用(ISBN:978-986-04-6199-2)。台北:國立台北科技大學建築與都市設計研究所。科技部:101-2627-E-027-002-MY3。
彭光輝(2014年07月)。2014綠牆創意設計競賽作品集(ISBN:978-986-04-1813-2)。台北:國立台北科技大學建築與都市設計研究所。
˙Book Chapters
Paiyao Hung and Kuang-Hui Peng. Green Energy Water-Autonomous Greenhouse System: An Alternative Technology Approach Toward Sustainable Smart–Green Vertical Greening in a Smart City. Green City Planning and Practices in Asian Cities (ISBN: 978-3-319-70024-3). New York, USA: Springer. Jan, 2018: 315-335. MOST 101-2627-E-027-002-MY3.
Shang-Jen Chen, Wen-Cheng Shao, and KuangHui Peng. An Innovative Planting System for a Vertical Green Wall. Green City Planning and Practices in Asian Cities (ISBN: 978-3-319-70024-3). New York, USA: Springer. Jan, 2018: 211-226. MOST 101-2627-E-027-002-MY3.
Peng, K. H., Kuo, Y. C. & Lin, C. Y. (May 2010) "Community Planning", Planning in Taiwan: Spatial Planning in the Twenty First Century, edited by Roger Bristow, Routledge, London, UK. (ISBN: 978-0-415-55173-1)
彭光輝(2012年07月)。設計之都:打造通用設計的高齡友善城市。世界設計之都(ISBN:978-986-7825-87-2)31-33。臺北:知音出版社。
˙Conference Paper
Peng, Kuang-Hui, (2018, Aug). Towards Sustainability by Applying Vertical Greening to Urban Rehabilitation, invited Keynote speaker, International Conference on Architecture and Urban Planning, Between the Lines: Treading the Middle Path between Academics and Practice School of Architecture, Reva University, Bengaluru, India.
Ching-Hsi Chen Tsai, Kuang-Hui Peng (2017, May). From Representation to Empowerment: Reflections on and review of the participatory budgeting by citizens' initiative movement in Taipei. 25th Pacific Conference of the Regional Science Association International PRSCO 2017 "Sustainable and Resilient Regional Development", Tainan, Taiwan.
Hui-Chun Chuang, Kuang-Hui Peng (2017, May). A Study on the Livability of Social Housing Community in Taiwan: the Case Study of the Former Army Maintenance Plant Base in Taipei City. 25th Pacific Conference of the Regional Science Association International PRSCO 2017 "Sustainable and Resilient Regional Development", Tainan, Taiwan.
Po-Wen Huang, Kuang-Hui Peng, Kemo Sima (2017, May). Private Participation in Public Infrastructure in Taiwan from the Perspective of the Public Interest. 25th Pacific Conference of the Regional Science Association International PRSCO 2017 "Sustainable and Resilient Regional Development", Tainan, Taiwan.
Ya-Ning CHEN, Kuang-Hui PENG (2017, May). Development strategy of circular economy in railway transportation-A case study in the eastern region of Taiwan. 25th Pacific Conference of the Regional Science Association International PRSCO 2017 "Sustainable and Resilient Regional Development", Tainan, Taiwan.
Peng, Kuang-Hui (2015, Nov). Planning Guidance for Establishing Community based Medium and Long-term Temporary Shelters of the Response in the Postearthquake Recovery. International Symposium of Urban and Rural Governance in Mountain Areas, Chongqing, China.
Chen, S. J., Chen, D.W. & Peng, K. H. (2015, Aug). Innovation on Modular Planting Containers of Vertical Greening. International Conference 2015 on Spatial Planning and Sustainable Development, Taipei, Taiwan. MOST 101-2627-E-027-002-MY3.
Chen, S. J., Song L.Y. & Peng, K. H. (2015, Aug). Modular Planting Containers of Innovation. International Conference 2015 on Spatial Planning and Sustainable Development, Taipei, Taiwan. MOST 101-2627-E-027-002-MY3.
Hung, P. & Peng, K.H. (2015, Aug). Green-energy Water-autonomous Greenhouse System: An Alternative-technology Approach Towards a Sustainable Smart-green Vertical Greening in Smart City. International Conference 2015 on Spatial Planning and Sustainable Development, Taipei, Taiwan. MOST 101-2627-E-027-002-MY3.
Peng, Kuang-Hui & Lin, H. Y. (2015, Jul). A Study on the Types of Vertical Greening Applying to Urban Existing Buildings in Taiwan. The 5th International Conference on Environmental Pollution and Remediation, Barcelona, Spain. MOST 101-2627-E-027-002-MY3.
Peng, Kuang-Hui (2015, Feb). Vertical Greening for Urban Rehabilitation in Taipei. 2015 International Workshop of Environmental Planning and Management--Sustainable Residential Areas, Kanazawa, Japan. MOST 101-2627-E-027-002-MY3.
Peng, Kuang-Hui (2014, Nov). Prospect of Vertical Greening for Urban Rehabilitation in Taipei. The third international conference "Green Cities –Green Industries" Magdeburg 2014, Magdeburg, Germany. MOST 101-2627-E-027-002-MY3.
Peng, Kuang-Hui, Kuo, Y. C. & Kuan, M. Y (2014, Jul). Multiple Hazards Potential Analysis and Sheltering Demand Estimation of Large Scale Disasters -A Case Study of City-region of Northern Taiwan. The 3rd Asian Conference on Civil, Material and Environmental Sciences 2014, Hokkaido, Japan. MOST 101-2410-H-027-015-MY2.
Meutia & Peng, K. H. (2013, Nov). Physical Appearance of Tsunami Evacuation Signage Based on Universal Design Principles: A Comparative Study between Aceh and Eastern Japan. The 12th Asian Planning Schools Association Conference, National Taiwan University, Taipei, Taiwan.
Zaini1, A. & Peng, K. H. (2013, Nov). Establishing Building Vulnerability Map to Tsunami Hazard Using GIS and PVTA, A Case Study of Banda Aceh City. The 12th Asian Planning Schools Association Conference, National Taiwan University, Taipei, Taiwan.
Peng, Kuang-Hui; Kuo, Yao-Chi & Kuan, Mei-Yin (2013, Oct). Adaptive Mechanism of Collaborative Planning for City-region's Large-scale Compound Disasters in Taiwan. 49th ISOCARP Congress 2013, International Society of City and Regional Planners, Brisbane, Australia. NSC 101-2410-H-027-015-MY2.
Peng, Kuang-Hui & Kuan, Mei-Yin (2013, Aug). The Disaster Governance of Cross-border Cooperation in City Region in Response to Large-Scale Complex Disaster. 2013 International Symposium on City Planning, Sendai, Japan. NSC101-2410-H-027-015-MY2.
Peng, Kuang-Hui; Kuo, Yao-Chi & Lin, Hsin-Yin (2013, Aug). The Use of Vertical Greening to Urban Rehabilitation for Improving Sustainable Environment in Taiwan. International Conference 2013 on Spatial Planning and Sustainable Development, Beijing, China. NSC 101-2627-E-027-002-MY3.
Meutia; Peng, Kuang-Hui (2013, May). A Study on Physical Appearance of Tsunami Evacuation Signage Based on Site Investigation in Aceh, Indonesia. International Conference on Planning and Design, 2013, NCKU, Tainan, Taiwan. NSC 101-2410-H-027-015-MY2.
Zaini1, Azriel; Peng, Kuang-Hui (2013, May). Establishing Tsunami Evacuation Zone Based on the Tsunami Run-up Analysis: A Case Study of Banda Aceh City, Indonesia. International Conference on Planning and Design, 2013, NCKU, Tainan, Taiwan. NSC 101-2410-H-027-015-MY2.
Peng, Kuang-Hui; Kuo, Yao-Chi; Lin, Hsin-Yi (2013, Apr). Applying Vertical Greening Technology to Urban Rehabilitation for Improving Sustainable Environment. The 2013 Asia-Pacific International Congress on Engineering & Natural Sciences, Bangkok, Thailand. NSC 101-2627-E-027-002-MY3.
Peng, Kuang-Hui (2013, Feb). The Application of Vertical Greening to Urban Rehabilitation and Maintenance. 2013 Workshop on Urban Planning and Management, Kanazawa, Japan. NSC 101-2627-E-027-002-MY3.
Peng, Kuang-Hui (2012, May). Applying Green Wall Panel's Technology to Urban Rehabilitation for Promoting Sustainable City. The Second Asian Conference on Sustainability, Energy and the Environment, Osaka, Japan. NSC 98-2218-E-027-012.
Chang, W. H., Peng, K. H. & Yang M. C. (2011, Oct). Taiwan Design: Benevolent, Beneficial and Beautiful. 2011 IDA Congress Education Conference, Taipei, Taiwan.
吳佩秦、彭光輝(2015年05月)。從智慧建築邁向智慧城市的政策與發展。臺灣建築學會第二十七屆建築研究成果發表會,苗栗:聯合大學。
李有豐、郭育汝、余忠政、彭光輝(2015年05月)。可移動式GFRP綠牆於植生綠化應用之研究。臺灣建築學會第二十七屆建築研究成果發表會,苗栗:聯合大學。科技部:101-2627-E-027-002-MY3。
林祉嫺、彭光輝(2015年05月)。住宅、辦公與商業建築外牆應用垂直綠化系統之比較研究。臺灣建築學會第二十七屆建築研究成果發表會,苗栗:聯合大學。科技部:101-2627-E-027-002-MY3。
黃詩珊、彭光輝(2015年05月)。植生綠窗系統之應用-以臺北市內湖區康寧里為例。臺灣建築學會第二十七屆建築研究成果發表會,苗栗:聯合大學。科技部:101-2627-E-027-002-MY3。
高玉倫、彭光輝(2014年12月)。模組式垂直綠化應用於公寓大廈之可行性。中華民國全國建築師公會第十一屆臺灣建築論壇-建築宏觀,台北。科技部:101-2627-E-027-002-MY3。
張皓雲、彭光輝(2014年06月)。居民與遊客對旅遊敫點公共設施需求的差瓽-以新北投溫泉區為例。2014永續都市與農村經營研討會,台北:中國文化大學。
陳祈諺、彭光輝(2014年06月)。以中國傳統園林精神論垂直綠化美學。2014年第六屆都市與農村經營研討會,台北:中國文化大學。
陳芝蘋、彭光輝(2014年06月)。以創意城市理念營造社區新意識之研究。2014永續都市與農村經營研討會,台北:中國文化大學。
吳佩秦、彭光輝(2014年05月)。臺北市捷運忠孝新生站微笑單車之使用後評估。臺灣建築學會第二十六屆建築研究成果發表會,台北:台北科技大學。
張皓雲、彭光輝(2014年05月)。臺灣從日本311 大規模災害之住宅重建策略的省思。臺灣建築學會第二十六屆建築研究成果發表會,台北:台北科技大學。
林瑋皓、彭光輝(2014年05月)。以使用者角度檢視文創園區是否具備創意城市指標能力之研究-以華山1914 文化創意產業園區為例。臺灣建築學會第二十六屆建築研究成果發表會,台北:台北科技大學。
陳芝蘋、彭光輝(2014年05月)。氣候變遷下複合型災害衝擊與因應對策之探討。臺灣建築學會第二十六屆建築研究成果發表會,台北:台北科技大學。
黃惠筠、彭光輝(2014年05月)。以永續發展的觀點探討防災社區之推動對策。臺灣建築學會第二十六屆建築研究成果發表會,台北:台北科技大學。
張欣樺、彭光輝(2013年12月)。綠窗設計應用於都市住宅社區之研究---以台北市南港區新光里為例。2013都市計劃學會聯合年會暨論文研討會,台南:長榮大學。
林欣儀、彭光輝(2013年12月)。臺灣都市老舊建築類型應用垂直綠化之分析。2013都市計劃學會聯合年會暨論文研討會,台南:長榮大學。
官美吟、彭光輝(2013年10月)。大規模複合型災害潛勢分析與避難收容需求之推估- 以北臺城市區域為例(優秀論文發表獎)。第25屆建築研究成果發表會,桃園: 銘傳大學。國科會:101-2410-H-027-015-MY2。優秀論文發表獎。
張欣樺、彭光輝(2013年06月)。建築物垂直綠化與指標關聯之研究。2013第九屆科技與社會學術研討會,新竹。國科會:101-2627-E-027-002-MY3。
陳祈諺、彭光輝(2013年06月)。以社區營造綠化策略改善閒置歷史建築之研究-以臺鐵舊宿舍濟南路三段15號為例。2013第九屆科技與社會學術研討會,新竹。國科會:101-2627-E-027-002-MY3。
高玉倫、彭光輝(2013年06月)。建築物垂直綠化構法之探討。2013第九屆科技與社會學術研討會,新竹。國科會:101-2627-E-027-002-MY3。
彭光輝、官美吟(2013年05月)。城市區域之跨域合作與災害治理。2013第十一屆土地研究學術研討會,台北。國科會:101-2410-H-027-015-MY2。最佳論文獎。
陳怡蓁、彭光輝(2013年05月)。臺灣實施建築物垂直綠化獎勵制度之研究。2013 第十一屆土地研究學術研討會,台北。國科會:101-2627-E-027-002-MY3。
陳沛煊、彭光輝(2013年05月)。應用台灣地震損失評估系統於臺北市防災公園中長期安置需求之研究。2013 第十一屆土地研究學術研討會,台北。國科會:101-2410-H-027-015-MY2。
張欣樺、彭光輝(2012年12月)。以城市區域合作大型複合性災害之災民安置調適策略研究-以東日本大震災為例。中華民國都市計劃學會、區域科學學會、住宅學會、地區發展學會聯合年會暨論文研討會,台北。國科會:100-2410-H-027-016。
陳怡蓁、彭光輝(2012年12月)。臺灣與日本防災體系之比較研究」。中華民國都市計劃學會、區域科學學會、住宅學會、地區發展學會聯合年會暨論文研討會,台北。國科會:100-2410-H-027-016。
陳慧珊、彭光輝(2012年12月)。面對大型複合性災害區域合作之調適策略-以高屏地區為例。中華民國都市計劃學會、區域科學學會、住宅學會、地區發展學會聯合年會暨論文研討會,台北。國科會:100-2410-H-027-016。
陳沛煊、彭光輝(2012年12月)。鄉鎮市(區)層級災害業務主管機關跨域合作與業務分工協調之探討。中華民國都市計劃學會、區域科學學會、住宅學會、地區發展學會聯合年會暨論文研討會,台北。國科會:100-2410-H-027-016。
韓依芬、彭光輝(2012年12月)。氣候變遷之災害衝擊與防災調適機制之研究-以日本311震災為例。中華民國都市計劃學會、區域科學學會、住宅學會、地區發展學會聯合年會暨論文研討會,台北。國科會:100-2410-H-027-016。
李碧玲、彭光輝(2012年12月)。氣候變遷下水患衝擊與因應對策之探討- 以泰國水患為例。中華民國都市計劃學會、區域科學學會、住宅學會、地區發展學會聯合年會暨論文研討會,台北。國科會:100-2410-H-027-016。
官美吟、彭光輝(2012年06月)。城市空間轉型與創新發展-以臺北機廠再生為例。第八屆科技與社會學術研討會,新竹:中華民國地區發展學會。
李碧玲、彭光輝(2012年06月)。氣候變遷下的災害衝擊與調適策略之探討-以泰國水患為例。第八屆科技與社會學術研討會,新竹:中華民國地區發展學會。國科會:100-2410-H-027-016。
賴緯駿、彭光輝(2012年06月)。由住宅通用設計觀點探討高齡友善城市-以台北市為例。第八屆科技與社會學術研討會,新竹:中華民國地區發展學會。
陳慧珊、彭光輝(2012年06月)。因應大規模複合型災害之防救災體系運作模式:臺灣與美國之比較研究。第八屆科技與社會學術研討會,新竹:中華民國地區發展學會。國科會:100-2410-H-027-016。
韓依芬、彭光輝(2012年06月)。日本大規模複合型災害調適機制對臺灣的殷鑑-以311震災為例。第八屆科技與社會學術研討會,新竹:中華民國地區發展學會。國科會:100-2410-H-027-016。
李碧玲、彭光輝(2011年12月)。以植生窗伸縮旋轉架活化室內綠意之槪念設計」。2011景觀論壇:多邊衝突與和解共生—景觀對話手法的運用,台中:中華民國景觀學會。國科會:99-2218-E-027-013。
韓依芬、彭光輝(2011年12月)。植生窗結合環保之槪念設計。2012景觀論壇:多邊衝突與和解共生—景觀對話手法的運用,台中:中華民國景觀學會。國科會:99-2218-H-027-013。
官美吟、彭光輝(2011年11月)。以植生窗設計需求與模式推動生態社區之整建維護。臺灣建築學會第二十三屆第二次建築研究成果發表會,台南:臺灣建築學會。國科會:99-2218-E-027-013。
賴緯駿、彭光輝(2011年11月)。從綠建築談拼組式植生窗結構活化室內綠意之概念設計。臺灣建築學會第二十三屆第二次建築研究成果發表會,台南:臺灣建築學會。國科會:99-2218-E-027-013。
趙慧雯、彭光輝(2011年11月)。建築壁面垂直綠化營造之景觀效益分析-以臺北科技大學設計學院西向壁面綠化設計為例。臺灣建築學會第二十三屆第二次建築研究成果發表會,台南:臺灣建築學會。國科會:98-2218-E-027-012。
陳玉霜、彭光輝(2011年11月)。以環境教育觀點探討都市防災公園之規劃。臺灣建築學會第二十三屆第二次建築研究成果發表會,台南:臺灣建築學會。國科會:100-2410-H-027-016。
楊懿修、彭光輝(2011年05月)。台中筏子溪下游堤後低窪地區土地規劃管理防洪減災策略之研究。第十五屆2011年國土規劃論壇學術研討會,台南:財團法人成大研究發展基金會/國立成功大學都市計劃學系。國科會:98-2410-H-027-008。
楊懿修、彭光輝,(2010,11),「颱洪災害衝擊下堤後低窪地區防洪減災策略之研究」,2010臺灣災害管理研討會論文集,臺北:臺灣災害管理學會、國家災害防救科技中心等/臺灣大學氣候天氣災害研究中心,83-84。
彭光輝,(2010,09),「以植生牆單元科技結合綠色都市之整建維護」,2010年第十七屆海峽兩岸城市發展學術研討會,台北:中華民國都市計劃學會
傅舜華、彭光輝,(2010,05),「以景觀連接度指標探討都市綠地生態規劃-臺北市北投奇岩新社區及大彎北段地區之案例比較分析」,台灣建築學會第二十一屆第二次建築研究成果發表會,台北:台灣建築學會(優秀論文獎)
楊政翰、彭光輝,(2010,05),「都市校園與緊鄰社區生態介面規劃設計之研究─清雲科技大學西側沿街面為例」,台灣建築學會第二十一屆第二次建築研究成果發表會,台北:台灣建築學會(優秀論文獎)
楊政翰、彭光輝,(2010,05),「台南鶯料理閒置空間之再生設計」,ICID國際創新設計研討會,台北,台北科技大學。
魏婷婷、彭光輝,(2010,04),「公部門以整建、維護方式推動都市更新之探討」,台灣建築學會第二十二屆第一次建築研究成果發表會論文集,臺北:台灣建築學會/台北科技大學建築與都市設計研究所,1053-1064。
˙Technical Reports
彭光輝,(2017/08-2018/07),「以循環經濟營造宜居社區之規劃設計準則研究 -以臺北市信義區陸軍保養廠基地為例」,台北:科技部 (106-2221-E-027-052 -) 。(主持人)
彭光輝,(2012/08-2015/07),「低碳優質生活:植生綠化科技應用於永續綠建築之研究」,台北:國科會 (101-2627-E-027-002-MY3) 。(主持人)
彭光輝,(2012/08-2014/07),「城市區域跨域合作規劃大規模複合型災害調適機制之研究」,(101-2410-H-027-015-MY2)。(主持人)
彭光輝,(2012/09-2013/1),「臺北城市設計工作營」,台北:臺灣創意設計中心。(主持人)
彭光輝,(2012/01-2012/12),「低碳綠能與生態社區子計畫:環境規劃(3)」,教育部。(子計畫主持人)
彭光輝,(2011/08-2012/07),「都會區縣市合作規劃大規模複合型災害調適策略之研究」,台北:國科會(100-2410-H-027-016-)。(主持人)
彭光輝,(2011/1/1~2011/12/31),「100年度全國性學術團體辦理學術推廣業務計畫(中華民國都市計劃學會)」,台北:國科會(NSC-100-2420-H-557-001-)(主持人)
彭光輝,(2011/04-2011/12),「臺北市補助大學都市規劃設計國際交流合作計畫:台北機廠及其周邊地區規劃」,台北:臺北市政府都市發展局。(主持人)
彭光輝,(2011/02-2011/12),「研訂通用化住宅規劃設計手冊」,台北:內政部建研所。(主持人)
彭光輝,(2011/01-2011/12),「低碳綠能與生態社區子計畫:環境規劃(2)」,教育部。(子計畫主持人)
彭光輝,(2010/9~2011/5),「以植生窗單元科技推動綠色都市更新之概念設計」,台北:國科會(99-2218-E-027-013-)。(主持人)
彭光輝,(2010/02-2010/12),「低碳綠能與生態社區子計畫:環境規劃(1)」,台北:教育部。(子計畫主持人)
彭光輝,(2010/04-2010/12),「臺北南港地區再生國際交流合作計畫--白鄉計畫」,台北:台北市政府都市發展局。(主持人)
˙Patents
陳上仁、彭光輝,(2017),拋棄式容器及其製造方法,發明專利I571411。
陳上仁、彭光輝、卲文政,(2017),植生磚,發明專利I569717。
陳上仁、彭光輝,(2016),渦捲式塑料基板,發明專利I549794。
陳上仁、彭光輝,(2016),垂直綠牆植生系統,發明專利I535374。
陳上仁、彭光輝,(2016),模組式垂直立牆植生系統,發明專利I533795。
彭光輝,李碧玲,(2016),可伸縮之植生窗結構,發明專利I534335。
彭光輝、張欣樺,(2015),垂直綠化的植生架構,發明專利I510181。
彭光輝、張欣樺,(2015),垂直綠化的植生構造,發明專利I510180。
洪百燿,彭光輝,(2015),綠能節水植生溫室系統,發明專利I477230。
彭光輝,賴緯駿,(2014),植生窗裝置,發明專利I448612。
彭光輝,蘇明俊,(2014),植生槽旋轉窗,發明專利I426862。
彭光輝,韓依芬,(2012),可自動澆灌之植栽承載結構,新型專利M460519。
彭光輝,蘇明俊,(2010),可移動式綠化板,新型專利M391915。
彭光輝,蘇明俊,(2010),綠化窗格結構,新型專利M390992。
彭光輝,蘇明俊,(2010),容器堆疊之綠化牆結構,新型專利M390655。
˙Honors
中華民國都市計劃學會最高榮譽「計畫獎章」得獎人 (2016)
科技部獎勵大專校院特殊優秀人才獎勵 (2010-2016)
教育部頒發指導學生參加藝術與設計類國際競賽表現傑出感謝狀 (2011)
國科會前瞻設計計畫成果發表會獲選最佳作品獎勵 (2011)
Honored Speaker of the Second International Inventor's Day Convention (2009)
「國際創造力教育博覽會」互動展覽區攤位創意設計首獎 (2008)
中華民國都市計劃學會「計畫獎狀」學術研究類得獎人 (2007)
國立台北科技大學產學合作績優獎勵
國立台北科技大學設計學院傑出研究獎
國立台北科技大學陽光論文獎助
國立台北科技大學文教基金會學術研究優良獎助
台北市政府都市變臉「私有建築物開放空間銅牌獎」 (2002)
協助九二一集集大地震勘災工作感謝狀 (2000)
台北市「最受肯定的地區發展計畫獎」(2000)
臺灣省政府研究發展優良獎勵 (1987)
臺灣省政府工作楷模(1984)
指導學生獲獎:
陳上仁榮獲得第十屆國際傑出發明家國光獎章 (2014)
高玉倫榮獲全國綠牆創意設計競賽佳作 (2014)
黃惠筠、林瑋皓、黃詩珊榮獲昇陽不動產投資精磚獎季軍 (2014)
林欣儀榮獲新北市建築工程施工圍籬美化圖案競賽特優獎 (2013)
官美吟榮獲土地研究學術研討會最佳論文獎 (2013)
官美吟碩士論文榮獲中華民國都市計劃學會優秀碩士論文獎 (2012)
洪百燿榮獲全國智慧綠建築設計創意競賽入選獎 (2011)
張俊杰、蔡宛樺榮獲國際iF產品概念設計競賽之前8-12名獎 (2011)
楊政翰榮獲台灣建築學會建築研究成果發表會優秀論文獎 (2010)
傅舜華榮獲台灣建築學會建築研究成果發表會優秀論文獎 (2010)
林欣儀榮獲全國學生景觀概念設計競圖優等獎(2009)
涂卉榮獲International Conference on Creativity Development最佳論文獎(2008)